Canon imagePROGRAF 8200 printer reviewed by Nicholas Hellmuth at FLAAR.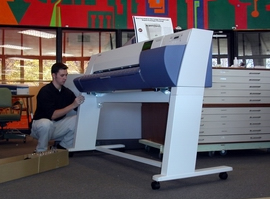 FLAAR personnel setting up the Canon W8200 at Bowling Green State University.
The Canon imagePROGRAF 8200 was conceived for graphic design, quick print copy shops, print for pay, photographers, and photo studios. But it did not become popular for giclee and decor because Canon is considered a copier company. We wanted to evaluate the newer model Canon W8400 for the giclee and fine art market, but it never was sent, so we acquired an Epson 9800 instead. Our reports on the Epson 9800 will be issued later in January.
The main competition for graphic design, quick print copy shops, print for pay, and especially for giclee and décor is the HP 5500.
For a while the current Canon printer model was the imagePROGRAF W8400, but we have been evaluating the previous model, the dye-based imagePROGRAF W7250 and now the W8200. Now (since April 2006) all these are replaced by the 60-inch Canon iPF9000.
The imagePROGRAF W8200 offers pigmented ink for longevity. So this is the first Canon printer suitable for signage as well as photography and giclee. Decor requires long-lasting dye or any pigmented ink.
Both older Canon printers are in the testing lab at Bowling Green State University. Several FLAAR Reports have been issued on them already.
Canon has a pleasant surprise, they offer a lite-RIP at no extra charge. But it turns out it has the same features as the printer driver, so you will want or need to upgrade to a full-featured layout-RIP such as PosterJet. So although you can start off with the Canon software lite RIP that comes free with the Canon printer to begin with, you will wish to get a full-quality RIP to be more productive.
Printer manufacturers tend to be good at making software, but they are not really in the world of software. It is safer to use software made by a company that is 100% dedicated to software (in this case such as PosterJet RIP software).
In the US, a Canon dealer that I have visited several times is LexJet: contact Carey Masera or Duston Stroh, toll free 800 453-9538.
If you are looking for a place that is not a box-pusher (meaning you want a place that provides service after the sale), then one place we know for many years is Parrot Digigraphic. Their telephone is 978.670.7766.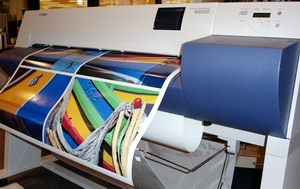 You can also accomplish fine art photography with the Canon's pigmented ink. We show glossy paper here. We recommend a satin or matte photo base paper

.
The complete reports are in full-color PDF reports. Our university-based institute has comprehensive reports on over 73 different wide format inkjet printers, RIP software, color management, scanners, digital cameras and on countless markets such as wide format inkjet printers for photography, giclee, proofing, CAD, GIS, graphic design, signs, and specialty applications too. All FLAAR Reports by Dr Nicholas Hellmuth and lab personnel are available on www.wide-format-printers.NET.
Most recently updated December 15, 2006.
Previous updates: April, 2006, Jan 16, 2006, June 13, 2005, March 2, 2004. Dec. 10, 2003. First posted July 21, 2003.