ATPColor DFP RSeries
Direct-to-Fabric Printing
ATP Color is an Italian company specialized in the textile printing industry. They manufacture dye sublimation and media handling systems that can be used with specific printer models, from partner companies to enable textile printing.
For the DFP RSeries, ATPColor uses three different Roland printer chassis models: RS 640, FP 740, and SJ 1045. They have basically the same features except for a few illustrated in the table below.
| | | | |
| --- | --- | --- | --- |
| | RS 640 | FP 740 | SJ 1045 |
| Printing width | 1.6 meters | 1.88 meters | 2.6 meters |
| Ink colors | CMYK | CMYK x 2 | CMYYKK |
| Ink containers | Cartridges | 8 x 1 liter containers | Cartridges |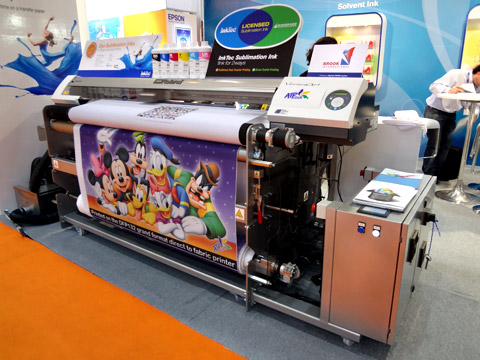 All the printers in the RSeries are designed to accomplish direct-to-fabric printing onto coated and uncoated polyester fabrics, but can also be used to print onto transfer paper. The main applications for this series of printers are flags, banners, textiles, and soft signage.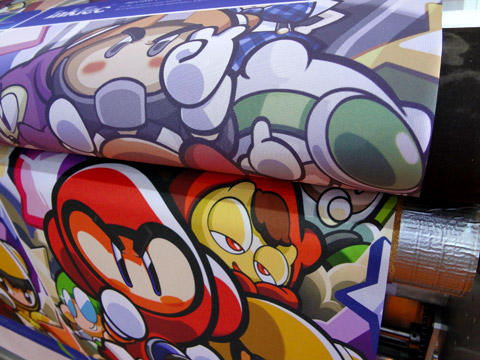 Available soon
The ATPColor system used for the DFP RSeries printers is both for media handling and for sublimating fabrics. It has two stepping motors and synchronized dancing rollers that control the media feeding process. A nice feature of this system is that you can manually control the tension cork rollers, and decide if you need them to be united or separated to create extra tension on the fabric. For example, if you were to print onto an elastic fabric you would keep the rollers together to create more uniform tension.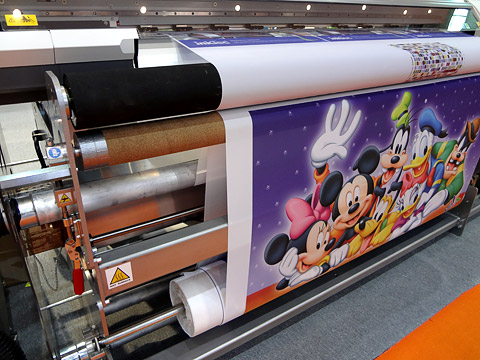 First posted October 2012