ATPColor DFP series, Direct-to-Fabric Printing at grand-format size
ATPColor develops the textile handling and sublimation aspects for their DFP series. The grand format printer is made in Asia with the textile handling aspects based on the acquired knowledge of ATPColor over the years. ATPColor is the master distributor of these units especially since many of the key features come from ATPColor in Italy.
The newest model is the DFP 1320 12G4, with 12 ink channels. The earlier models have eight ink channels: DFP 740 8G4, DFP 1000 8G4, and DFP-1320 8G4. The present models use Ricoh Gen4 printheads. This sophisticated level of printhead is significantly more durable than the common Epson DX5 printheads (each head has its benefits; DX5 is more useful for entry-level and mid-range; Ricoh Gen4 is more practical for grand-format printer sizes).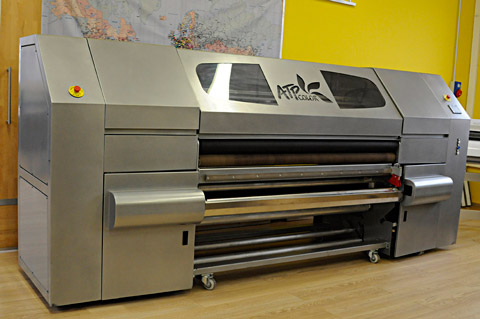 The chassis of DFP series is a basic structure made of heavy gauge metal, with a three-section front hood to access the inside of the printer. The media handling system is designed by ATPColor and unlike many entry-level printers that use pinch against grit rollers to handle the media; this system uses tension like all the high-end printers. The system for handling media is very well designed and it allows the media to be feed evenly, it does a practically flawless job without skew.
Since the textile market is constantly growing and becoming more popular, naturally FLAAR is learning more about digital textile inkjet printing; by attending observing and gathering information at trade shows and evaluating this equipment at factory or demo rooms.
During 2012, Dr. Nicholas Hellmuth and Sofia Monzon spent two days in Milano, Italy at the primary demo center for ATPColor evaluating their newest model, DFP 1320 12G4, DFP 740 8G4, and an intermediate-sized model, DFP 1000.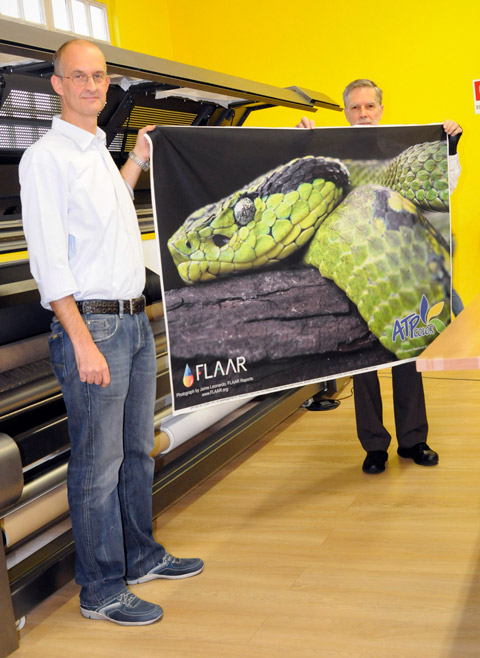 FLAAR has also witnessed these printers of ATPColor at different trade shows around the world: ISA 2011, FESPA Hamburg 2011, SGIA 2011, Sign Africa 2011, VISCOM Milano 2011, FESPA Barcelona 2012, Sign Africa 2012, etc.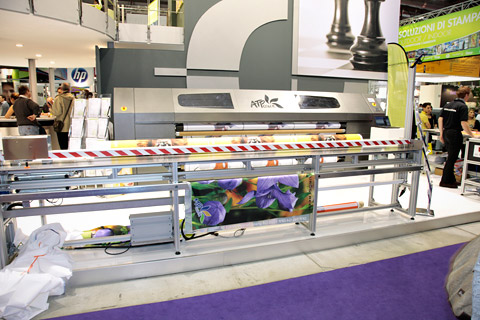 Increased focus on textile printers at FLAAR during 2012, into 2013 and beyond
A prediction of a rise in textile printer sales was touted from 1999 through 2004, ceaselessly. This increase in textile printers utterly failed to happen. Already ten years ago I presented a lecture at a textile conference explaining clearly why such claims of an impending increase of textile printer usage was only hype hoping to impact sales. And indeed, despite the same undocumented claims every year in that time period, textile printer usage did not begin to rise noticeably until perhaps 2007-2008 (almost ten years after all the repetitive predictions).
Now, in 2012 going into 2013 we can see the increase in textile printer manufacturing around the world. We at FLAAR noticed this aleady and have been dedicating more time and budget to covering textile printers at every printer expo. Maria Renee Ayau is one on our staff who is focused on writing about textile printers (but real printers, not wishful future projects).

Since so many new manufactures are entering the textile printer market, the already established brands are facing a wave of new machines from companies with little or incomplete background in textile printing. So after seeing the more than perhaps two dozen manufactures of textile printers I decided to keep an eye out for the five brands which have good technology, good textile inks, and can provide a solid printer for printing on fabrics. Presently we are evaluating two brands: each brand has distributors in different countries and there are some features of each brand which makes each distinct (so they are different from each other in technology and philosophy also).
Within a few weeks we will have our entirely new textile workflow publications available for printshops. Our intent is to provide a wide range of coverage of textile printers as we already do for UV-cured printers for the past twelve years.
First posted October 2012.