Epson Stylus Pro 7900 and Stylus Pro 9900 for fine art giclee.
After years of "owning" the fine art photography and giclee market, Canon began encroaching on market share and then HP enlarged their market share. So Epson lost market share to both.
With the 24" Epson Stylus Pro 7900 and 44" 9900 Epson is trying to hold on to their % of the giclee, fine art photography, and proofing markets and regain market share as well.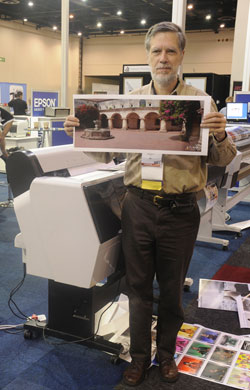 Sample printed by Epson Stylus Pro 7900.
Epson Stylus Pro 7900 and 9900 are not dye sublimation printers.
At DRUPA 2008 Epson Europe launched their Epson Stylus Pro 7900 and Epson Stylus Pro 9900. At first people told me it was intended as a textile printer for cotton, silk and other fabrics. But none of this was shown at Photokina a few months later. At Photokina the Epson Stylus Pro 7900 and 9900 were being used for giclee, fine art photography, and décor.

For many years Epson held the top market share in printers for proofing, printers for photographers, printers for giclee. Then the Hewlett Packard Z2100 and HP Z3100 began to gain significant market share for photographers and giclee. Even the Canon iPF 9000 has taken over market share in giclee as well (several people who read the FLAAR Reports told me they bought Canon iPF printers and are content with them).

So as Epson sales in these areas have dropped, Epson has tried to move first into outdoor printing with its Epson GS6000. So it is suprising that Epson is not also trying to move into the textile market before HP or Canon move in. Canon has no textile printers and HP has specifically skipped textile applications as well. Yuhan-Kimberly is a rising start in the textile printing market.
Existing competition in the dye sublimation market.
Mimaki holds the highest market share for printers in the 64-72 inch market. Then Roland, then Mutoh. D-Gen and Yuhan Kimberly from Korea and a host of Italian and other European companies retrofit mostly Roland printers to do dye sublimation. So it is a tough market to enter. Fortunately neither HP nor Canon is in this market because dye sub is still a niche market and neither has piezo printheads of the kind that would be good for handling dye sublimation ink. But it appears that the textile application focus for the new Epson was more in the aspiration of the RIP company in the DRUPA booth and was not continued in any Epson booth since then.
Spectrophotometer on board as an option.
The new Epson 7900 and 9900 offer an X-Rite spectrophotometer as an option. With the HP 3100 and HP 3200 the color management is locked into the printer chassis. With Epson it is an option.
If you are looking for a place that is not a box-pusher (meaning you want a place that provides service after the sale), then one place we know for many years is Parrot Digigraphic. Their telephone is 978.670.7766.
Frontal sight of Epson Stylus Pro 7900 at Sign Africa 2008.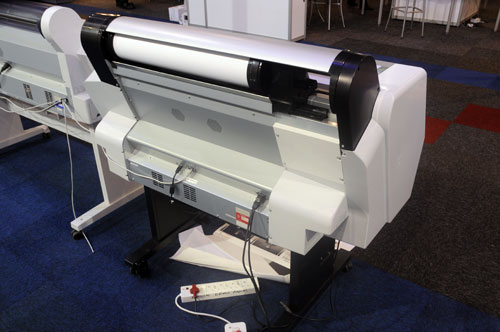 Back sight of Epson 7900.
Most recently after Photokina 2008 and after inspecting the printers at Sign Africa.
Previous updates: May 29, 2008.

include '../plantilla-php/Textil_sidebar.php';?>