FLAAR offers professional consulting services on UV-cured flatbed and roll-to-roll printers for a variety of businesses and industries in the professional printing markets.
FLAAR offers a variety of consulting services for the inkjet printing industry. FLAAR is increasingly sought after by investment analysts. One investment analyst said clearly that the FLAAR data is valuable for documentation of sales potential, which directions the markets are going, and most of all the true pros and cons of a product and a company, "all we otherwise ever hear is management's rosy picture."

FLAAR consultant Dr. Nicholas Hellmuth can conduct his consultation services on-location anywhere around the globe. He has consulted in Japan, Slovenia, Italy, Austria, Latin America, Turkey, Greece, and across the United States and Canada.
Dr. Hellmuth was educated at Harvard, trained at Yale, and received his Ph.D. from Karl-Franzens Universität (Graz, Austria). We are especially interested in consulting for museums, museum exhibits, and field research programs since we have also spent many decades doing field projects in remote areas of Central America. Our primary clients are print shops of all sizes, printer manufacturers, ink companies, and component manufacturers (LED lamps, for example).
Dr. Hellmuth/FLAAR consult on UV-cured flatbed and UV-curable roll-to-roll applications, textile printing, decor, RIP software, inkjet printers in general, inks, media, and lamination. We also provide knowledge on market research. Several printer companies have come to us to ask assistance in acquisitions (either them acquiring another company, or preparing themselves to be acquired).
In addition, he is knowledgeable in giclee, fine art photography, solvent, eco-solvent, mild-solvent, as well as in scanning and high end digital photography.

For training in color management and ICC color profiles we work together with experienced color consultants who can provide hands-on training. Two of our color management partners are multi-lingual. Dr Hellmuth is tri-lingual (German, English, Spanish) and he can understand Italian, some Portuguese and basic French.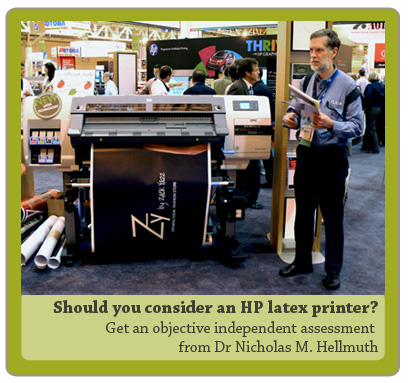 Dr. Hellmuth's consulting services are valuable for manufacturers, distributors, dealers of any size, as well as print shop owners, operators, and individuals.

The difference between reading the FLAAR reports and web site, compared to retaining Dr. Hellmuth for an on-site visit, is that he can provide fresh information not yet published in the written reports, or posted on the web site. Therefore, an on-site consultation with Dr. Hellmuth is invaluable to keeping up with the latest trends and technologies in professional printing.

Listed below are a few of the topics our consultation services cover. This list is not exhaustive and is only meant to highlight the services FLAAR has to offer. A brief list of services includes:

• Discussing which printer(s) are optimal for your business, screen printing company, offset printer, franchise sign shop, reprographic, packaging, speciality, museum, studio, university or other company's specific needs;

• Explaining of the pros and cons of piezo vs. industrial piezo vs. thermal vs. continuous inkjet technologies for your specific printing needs;

• Discussing which inks and media work in which printers (and which inks and media will not function in popular printers);

• Explaining inks, colorants, media, paper, substrates in a non-technical, easy to understand manner;

• Providing a follow-up list of key contacts within the industry, pertinent individuals in ink chemistry, media/substrates, printer technology, business-plans and strategy;

• Discussing digital image storage options, digital asset management software, computer platforms (Macintosh vs. PC);

• Discussing color management options, training, follow-up, software, color measurement tools;

• Teaching techniques for printing on ceramic tiles, wood, leather and metal foil (even onto solid metal);

• Understanding how to print art onto silk, cotton, and onto other fabrics with a wide format inkjet printer;

• Providing analysis of market potential for the market(s) your company is seeking to enter.

• Market analysis, who are the competitive players (strengths and weaknesses both of products and company per se).

Consulting for ink companies
If you are an ink company in Korea, Taiwan, China, India, or Thailand, we have a successful record in assisting you enter markets in Europe, North America, and South America.

Consulting for components for inkjet printers
The most popular component these days are LED lamps, so FLAAR is much sought after here. But whether you make the conveyor belts (transport belts), ink pumps, UV lamps, printheads, or whatever, you can profit from learning tips and trends and benefiting from the unparalleled access that FLAAR has in the wide-format inkjet industry.

Consulting for Analysts & Investors
FLAAR is increasingly asked to provide assistance for investors and market analysts. We also provide crucial advice for acquisitions, de-acquisitions, mergers, and OEM relationships. You would be surprised who we already provide consulting for. Since we are under NDA, we can't exactly list our clients. Ironic that in two recent cases FLAAR was already the consultant for the buyer and the company he wanted to purchase. If you are already consultant for a significant number of the major companies, this happens by concidence. When so, we simply let both sides know we are already consultants and then it's a lot easier for the companies to buy or sell each other.

Market Analysis, Marketing Survey Data, etc.
FLAAR also offers market survey information and product analysis for ink, media, hardware, and software manufacturers. FLAAR's market information can help your business focus on the features end-users are most happy with or would like to see improved.

Almost every month investment analysts are coming to ask for information from FLAAR. This suggests that the data and knowledge that we possess is not readily available elsewhere. Seemingly our reputation for blunt pros and cons is becoming better known.
Consulting on large format printer reality in China, Korea, and Taiwan
Are you a Chinese manufacturer wishing to enter markets in Europe, the US, or Latin America?

Are you a manufacturer in the US, Europe, or Asia who seeks a trustworthy partner in China, Korea, or Taiwan for OEM manufacturing?

Are you a printshop owner, manager, or investory seeking to learn the pros and cons of Chinese, Korean, or Taiwanese printers?

Dr Nicholas Hellmuth can assist your company relative to China, Korea, and Taiwan. FLAAR has experience, actually inside the headquarters, factories, R&D testing rooms of the primary manufacturers in China, in Korea, and in Taiwan.
Distributors
Are you unsure which brand or model of printer to distribute in your country?

We can provide you the knowledge so you can decide which printer to distribute or resell in your country. Recently one distributor in the US said that the manufacturer in Asia had not been in touch with him for months. Another distributor in the UK said that after be built up the business he was dropped by the manufacturer.
And what happens if you put all your time and energy in distributing a brand and then the manufacturer goes out of business or goes into bankruptcy?
For manufacturers, we assist you in learning which distributors in which world area might be appropriate for you. We know distributors in Middle East, South Africa, US, Latin America, Europe, Eastern Europe, Balkans area, and Turkey.
Expert Witness
We prefer to do the research aspects leading up to an Expert Witness, since an actual court case appearance is difficult due to our busy schedule. So far, of the lawsuits that have been shown to us, all were lacking adequate research and lacked an understanding of the reality of wide-format inkjet printing. So FLAAR can be a significant asset in providing historical time-line and background information for the attorney. Otherwise your law firm only hears one side of the story (that of your client). Obviously most lawsuits are settled out of court, but you need to have enough knowledge on your side to protect yourself.

Lectures, Seminars, Conferences, Open House, In House.
Dr Hellmuth can provide educational presentations in German, English, and Spanish, and can be translated elsewhere in the world. He has lectured in Japan, Guatemala, Mexico, Johannesburg South Africa, Greece, Amsterdam, etc. and lectured several times in Korea, Slovenia, Croatia, Dubai and elsewhere.

You can hire Dr Hellmuth to provide training presentations or private presentations under NDA. He also is available as VIP Guest at your trade show booth, In House or Open House, product launch, or other international or regional events.
Contact Info
If you wish to hire Professor Hellmuth as a consultant to come to your company, please contact [email protected]. If no answer, telephone 419 823-9218 (Vonage/VoIP service). But this is NOT a telephone number for access to general FLAAR information whatsoever. No information is available by phone other than to companies and individuals who wish to consider sign professional consulting at standard industry rates; we ask that all other contact be via e-mail please.

These contact routes are not intended for:

• Circumventing the inquiry survey form; or

• Submitting miscellaneous questions before a professional consulting relationship is established.

This contact route is only for opening up a professional consulting appointment with Dr. Hellmuth coming to your company or to arrange a conference call. We can sign an NDA or your preferred Confidentiality Agreement if necessary, though that just adds a layer of additional paperwork.

If you are an individual, a small business, as well as a large company, we try to reply to the Inquiry-Survey Form usually within 72 hours, so submitting the form via e-mail is the best way to contact us. There is no cost for the Survey Form response. We are not able to respond to random e-mails or random fax messages.

Please understand that due to the size of the readership it is not realistic to handle inquiries by telephone unless we have a working relationship with your company initiated by your email followed by a day of consulting at your place or at FLAAR's home facility.

We accept inquiries in Español, Deutsch, English, French, Portuguese, and Italian.
| | |
| --- | --- |
| | |
| Receive consulting personally at a trade show. (FREE Download) | For all wide-format inkjet printers, RIP, Ink & Substrates. (FREE Download) |
Consulting for UV printer manufacturers, available to manufacturers only: ink, media, substrate, scanner, RIP software, printer manufacturers, integrators, parts manufacturers, please request this by e-mail from:

[email protected]

To obtain this PDF on consulting services for financial analysts and business strategy consultants, please request this by e-mail from:
FLAAR Schedule for 2014
2014

January 2014
Jan. 7-9 : Dubai (SGI)
February 2014
Feb. 21 - 24: D-PES (Guangzhou)
Feb. 23 - 26 : SignChina (Guangzhou)
March 2014
Mar. 27 - 1: GOA (Orlando)
Aplir 2014
Mar. 31 - Apr 3:Ceramics China (Guangzhou)
Apr. 22 - 26: ISA (Orlando)
May 2014
May. 20 - 23: FESPA (Munich)
June 2014
Jun. 17 - 20: IDPEX (Iran)
Jun 16 - 20 : ITMA Asia + CITME
July 2014
Jul. 3 - 6: APPPEXPO (Shanghai)
Jul 15 - 18 : Panamá Expo Gráfica (Panamá)
August 2014
Aug 21 - 23: FESPA (México )

September 2014

Sep 11 - 14 :Sign Istanbul (Turkey)
Sep 16 - 21 : Photokina (Cologne) Germany
Sep 22 - 26 :Tecnargilla (Rimini) Italy

October 2014

Sep 28 - Oct 1 : PRINT (GraphExpo) Chicago
Oct 21 - Oct 23 : GLASSTEC (Düsseldorf ) Germany
Oct 22 - Oct 24 : SGIA (Las Vegas)

2013

January 2013
Jan. 20 - 22: Sign and Graphic Imaging Middle East in Dubai
February 2013
Feb. 21 - 23: GoA, Graphics of Americas in Orlando, FL
Feb. 25 - 28: D-PES in Guanzhou, China
March 2013
Mar. 1 - 4: Sign China in Guanzhou, China
April 2013
Apr. 3 - 6: ISA Sign Expo, Las Vegas, NV
May 2013
May. 21 - 25: PacPrint 2013 in Melbourne, Australia
May. 29 - Jun - 1: Ceramics China 2013 in Guanzhou, China
June 2013
Jun. 10 - 13: ShanghaiTex in Shanghai, China
August 2013
Aug 21-23: Sign Africa (SA)
September 2013
Sep 8-12 : PRINT (GraphExpo)
October 2013
Oct 23-25 : SGIA (Orlando)
Nov-Dec 2013
28 Nov- 1 Dic : Sign Istambul (Turkey)

2012

February 2012
Jan. 31 - Feb. 02: Sign and Graphic Imaging Middle East in Dubai
Feb. 18-21: D-PES Guanzhou, China
Feb. 20-23: China Sign , Guanzhou
Feb. 21- 24: FESPA Digital in Barcelona, Spain.
March 2012
March 1-3: Graphics of the Americas, Miami
March 22-24: ISA Orlando
April 2012
Apr. 17-19: China Sign Expo (CIEC) in Beijing, China

May 2012

May 3-16: DRUPA in Dusseldorf, Germany
May 22-25: Rapid 3D & Imaging Exposition 2012 in Atlanta, GA


Sept 2012

Sept 18-23: Photokina 2012 in Cologne, Germany
Sept 24-26: Tecnargilla in Rimini, Italy
Sept 27-29: Reklama in Moscow, Russia
Oct 2012
Oct 18-20: SGIA Expo, Specialty Printing & Imaging Technology in Vegas

2011

January 2011
January 24-26: Dubai SGI, Sign and Graphics Imaging, the first major international sign industry event in the world each year. 25th January 2011, Seminar Room, Airport Expo, Dubai, UAE. Lectures by Nicholas.


Seminar 1, 11:00 hrs. Green Inkjet Printing (Ink & Media) vs Greenwashing (over-exaggerated claims)
Seminar 2, 14:00 hrs. After-Market (wide-format inkjet) Inks: How to Assess and Evaluate

February 2011
February 24 -26: FLAAR at FESPA Americas + Graphics of the Americas (GoA)

Lectures by Nicholas Hellmuth

At GoA:
Feb 24: 12:30 PM-2:00 PM New Technologies in Wide Format Printers
Feb 25: 12:30 PM-2:00 PM Wide Format Opportunities with resin ink Technology

At FESPA
Feb 25: 3:00 - 4:00 Cartón con estructura de nido de abeja: Materiales innovadores y amigables con el medio ambiente
Feb 26: 12:00 - 1:00 Impresión sobre todo tipo de materiales: La impresión decorativa para sobresalir ante su competencia

February 28: Dongguan
March 2011
March 22 - 26: Graphispag Digital Barcelona
March 25 - 27: Art Expo
April 2011
April 28 - 30: ISA Vegas
May 2011
May 4 - 6: Visual Impact Expo, Sydney, Australia, and PrintEx11
May 24- 27 : Fespa Hamburg, Germany, Six of us attended, great expo.
June 2011
June 17: 11:30 AM Lecture Toner at Wide-Format Print Size, How can toner best compete with Wide-Format Inkjet? Santa Monica, C.A. Double Tree Suites by Hilton Hotel Santa Monica, 1707 Fourth Street, Santa Monica, CA, United States
July 2011
July 6 - 9 : APPPEXPO:Shanghai, China. Four of us from FLAAR will attend, including our specialists in textile printers, inks, media, coaters and laminators
July 18- 22 : Arqueology Congress, Guatemala
July 20- 23 : Serigrafia Sign, Sao Paulo, Brazil
August 2011
August 16 - 20: Fespa Mexico, we gave not yet decided if we will attend this expo.

2010

November 2010
November 12 -14: FESPA Asia Pacific – Bangkok, Thailand.
November 19: FESPA Brussels Belgium. Lectures on Green inks and Latest Digital Technologies by Nicholas Hellmuth.

10:20 AM-10:50 AM New technology – Digital Printing
11:40 AM-12:10 PM New technology – Sustainable Inks
12:10 PM-12:40 PM Panel Session: Innovation, Exploring the drivers for innovation (is it technology; customers; printers; or all of these and more)
3:30 PM- 4:00 PM Panel Debate: Developing powerful print, Where print meets marketing (innovative use creates a strong message and provides added value to your customers)

November 25-28: Sign Istanbul .
November 29-30: SIM in Abu Dhabi. Nicholas will be one of the speakers at this sign expo:

Monday 29, Major Lecture Abu Dhabi National Exhibition Centre (ADNEC)
Tuesday 30, Lecture Abu Dhabi National Exhibition Centre (ADNEC)

December 2010
December 7: Costa Rica conference on cultural heritage (Dr Hellmuth will be a speaker).
Most recently updated, November, 2011.
Previous updates: Nov. 2010. Oct. 22, 2001, Feb. 10, 2003, April 6, 2009.